Details are beginning to be revealed about how Ukrainian zoos cope with the war. Some animals, including lions, tigers and wildcats, have been housed in Polish zoos, but this will not be possible for many species.
The current situation in Ukraine has a drastic impact on the country's zoo, as did World War II at the London Zoo. Currently, the European Association of Zoos and Aquariums (EAZA) and the World Federation of Zoos and Aquariums (WAZA) are working to support Ukrainian zoos where possible.
There are three large zoos, the Nikolaev Zoo, the Kiev Zoo and the Kharkiv Zoo in the cities currently being attacked by the Russian army and talked about how they are doing. Outsiders may think it is best to evacuate the animals to a safer environment, away from the war zone. But it's an incredibly risky endeavor. In tense and difficult environments, animals may be afraid of the sounds around them. Placing very stressed animals in crates and transporting them in noisy and complicated conflict zones can cause serious illness or death, apart from the risk of being shot.
The noise affects the animals
Zoo animals are accustomed to some degree of noise when visitors come to their catwalk. Even human chatter has been shown that zoo animals become stressful or change their behavior. But for the most part, the impact of visitors on zoo animals is negligible.
---
Read more: Zoos are key to a healthy future for the planet – don't let them go extinct


---
Research into the impact of explosions near zoo animals, as is the case at some Ukrainian zoos, has not been studied, but we have some possible comparisons with construction work. A study published in 2019 looked at how elephants, giraffes and emus coped with zoo construction work. Elephants, giraffes and emus reacted with stress and excitement and moved to quieter areas. Giraffes have also moved closer to the other animals in their flocks, suggesting increased protection for wild giraffes.
As the scale of the war and related explosions is much greater than the number of construction works, we can assume that this will have a terrible impact on the animals housed in the zoos. At the Kiev Zoo, some animals are admitted with sedatives or transported to underground places, and the keepers stay with them overnight.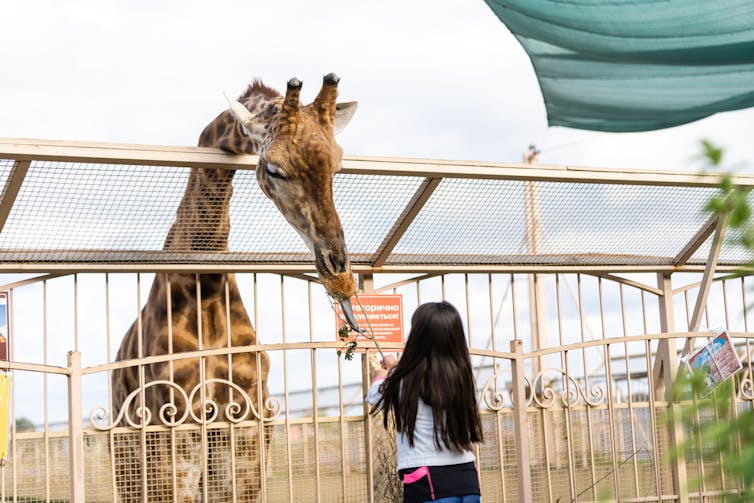 Problems moving
On 18 March, EAZA issued a statement stating: "Ukrainian zoos generally still do not ask for our help to relocate animals from high-risk areas; This may not be in line with general media coverage, but we support zoos' request not to relocate animals for now. "
We also need to consider where to go. Adjacent zoos may not have enough space, staffing needs, expertise, or specially designed runways to accommodate these animals.
Moving zoo animals is not an easy task under normal circumstances, and animal transport can have a negative impact on animal welfare. Animals in transit may experience dehydration, fatigue, behavioral changes, and stress. Research has also shown that animals make contact with animal keepers, so this may have additional welfare consequences if animals are transported to a new location under stressful conditions.
As the war continued, they were reports about zoo animals killed in the blasts and "many animals were killed along the streets," including lions, but these reports were not confirmed by the zoos.
What can we learn from the past?
The London Zoo was founded in 1828 and survived two world wars, and the history of coping with the bombings can provide useful lessons.
World War II began on September 3, 1939, and at 11 a.m. that day, the government called on the London Zoo (ZSL), which operated the London Zoo, to close it. The London Zoo was built for that. According to records, two giant pandas, two orangutans, four chimpanzees, three Asian elephants and an ostrich were relocated to the Whipsnade Zoo near London for safety. The ZSL has collected documents from the era that tell what happened.
Unfortunately, some of the poisonous animals have been killed to increase the safety of the population and staff in the event that they are able to escape due to an invasion. Parts of the zoo could be reopened, but the aquarium remained closed until 1943 in the event of bombings. The tanks were emptied and some residents had to be killed – although some fish were moved into the turtle bath.
The London Zoo has begun breeding its own invertebrate stocks, such as mealworms. Requests for acorns and other animal feed items were broadcast on the radio, and the public donated one tonne a week. The public has also been able to adopt animals and help support them – this can happen in Ukrainian zoos.
By 18 March 2022, the EAZA Ukraine Emergency Fund had raised € 576,371 (GBP 483,768) from a large number of individual and institutional donors, "an extraordinary and humiliating achievement that will help provide immediate and long-term assistance to Ukrainian colleagues," EAZA said. . The funds raised will be used to support Ukrainian zoos to provide food and care for the animals in addition to relative welfare and safety, as well as support for zoo caretakers and managers.